Trampoline

"Trampoline" Title Card

Episode Number

1

Director

Erkki Lilja

Writter

Antoine Vignon and Erkki Lilja

Run Time

1:01

Characters

Minion Pig

Previous

N/A

Next
Trampoline
is the First and Pilot Episode of 
Piggy Tales
. It introduces 
Minion Pig
.and the trampoline(item in episode)
Toons.tv Description
Edit
A curious piggy comes across a trampoline for the first time. The little guy just can't resist jumping on it - even though he's not supposed to! See what happens when the trampoline really get going...
A little Piggy came across a trampoline, with a sign with a drawing of a pig and a trampoline crossed (which means "no jumping on the trampoline") He observed the sign, then checked if there was anybody near. He then quietly and slowly put himself on the trampoline, and again checked if anyone was near. The pig then just tried to bounce on the trampoline - but it wouldn't let him! He then rapidly jumped up and down the trampoline, but it still didn't work, thus upsetting him. Then, the trampoline's "bounce mat" slowly stretched down. The pig started to worry, then became very scared when it was fully stretched that sprung him up the ceiling, stuck there with four other pigs before him. After the event, another pig came across the same trampoline, looping the plot. when the plot ends, only that pig is seen and smiles.
Characters
Edit
Minion Pig (first appearance in series)
Trampoline (first appearance in series)
This is the first episode to have a looping story,second being Push Button.
the trampoline have another appearance in piggy tales episode 31:IT A WRAP.
the new verison of the bad piggies from the first angry birds and the game bad piggies have a appearance on the yellow sign.
this a parody of the game doddle jump and the super mega jump in sonic adventure 1 and 2 and sonic the hegehog (2006)
the yellow stand up danger sign with animation pig verison on it based of the wet floor sign
four minion pig was on the ceiling which is made 5 with the first minion pig at the start of the episode. Is the frist episode of piggy tales series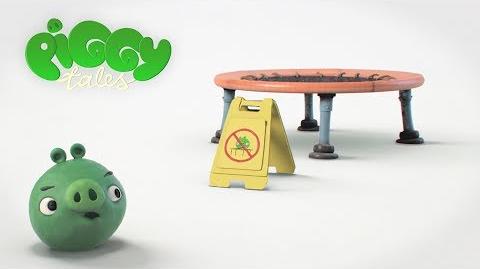 Ad blocker interference detected!
Wikia is a free-to-use site that makes money from advertising. We have a modified experience for viewers using ad blockers

Wikia is not accessible if you've made further modifications. Remove the custom ad blocker rule(s) and the page will load as expected.