Super Glue



Episode Number

8

Director

JP Saari

Writer

JP Saari

Run Time

1:08

Characters

Minion Pig

Previous

Next
Super Glue
is the eighth episode of 
Piggy Tales
.
Toons.tv Description
Edit
What's green, stupid, and sticky all over? See what happens when one dimwitted pig finds a tube of glue – and just has to pick it up
A Minion Pig found a super glue and checked it out, until another piggy stopped by and see him doing that. He showed him the super glue then walked away, didn't realized that his friends are stuck behind him. The piggy called him, but he didn't see the piggy stuck on his back. Then another Minion Pig come and helps him, but he also get stuck. The minion pig that is in front of them hear the piggies behind him and turn around, still not realizing that they're actually stuck behind him. The same thing happened all over again until he felt exhausted. He decide to walk away, but his back is full of stuck Minion Pigs until it formed a caterpillar. He still didn't realize it & ignored it while he crawled away.
Characters
Edit
Minion Pig - Sixth Appearance in series
Super Glue - Exclusive Appearance
This episode reference to Super Glue Power-Ups in Bad Piggies game and also Kragle (Also known as Krazy Glue) from The Lego Movie
This is the first episode which has an improved theme song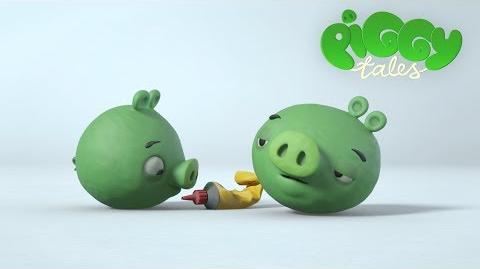 Ad blocker interference detected!
Wikia is a free-to-use site that makes money from advertising. We have a modified experience for viewers using ad blockers

Wikia is not accessible if you've made further modifications. Remove the custom ad blocker rule(s) and the page will load as expected.