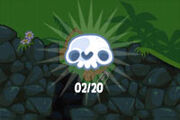 A skull is a collectible item in the Bad Piggies game, and are the counterparts of the
Golden Egg
.They appear as the skulls of the 
normal pigs
,
Corporal Pigs
, and 
Foreman Pigs
. However, the game only has their skulls. So far, there are 45 skulls in the 
Tusk Til' Dawn update
.
The skull acts like a Star Box and a dessert. They are collectible, but are rare and hard to find and get.
After obtaining 10 skulls you can unlock a new Find the Skulls Sandbox.
Currently, their use is to unlock the "Find the Skulls" Sandbox level and for iOS/Android users only.
Ad blocker interference detected!
Wikia is a free-to-use site that makes money from advertising. We have a modified experience for viewers using ad blockers

Wikia is not accessible if you've made further modifications. Remove the custom ad blocker rule(s) and the page will load as expected.