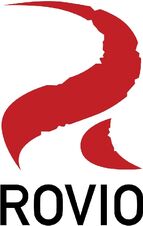 Rovio Entertainment Ltd.
es una marca que es que todos conocemos popularmente como
Rovio Mobile
, o, más popularmente,
Rovio
. El
Rovio
que ha creado y sigue siendo siempre la actualización de los juegos que conocemos como
Angry Birds
,
Amazing Alex
,
Angry Birds Seasons
,
Angry Birds Rio
,
Angry Birds Space
... y otros. Si citando los nombres de todos los juegos de Angry Birds que existen, no podía dejar de hablar de los juegos en HTML5 que se han producido desde Chrome a otro más comercial, algunos en Flash, ya sea en Facebook, es promover una sociedad con niveles personalizados con un tema aparte para esta empresa.
Pero vamos a hablar de eso, es que Rovio está produciendo el juego (que ha sido casi confirmado a través de Facebook) que son los malos Piggies Para obtener más información, visite el sitio web de Rovio.
Más informaciones? Visita el site de Rovio 

Ad blocker interference detected!
Wikia is a free-to-use site that makes money from advertising. We have a modified experience for viewers using ad blockers

Wikia is not accessible if you've made further modifications. Remove the custom ad blocker rule(s) and the page will load as expected.