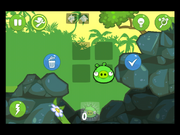 Level 1-4 is the fourth level in Ground Hog Day and Bad Piggies.
Item Given
Edit
1 Freckles
Get Freckles to a certain destination
Get the Star Box
Finish within 4 seconds
Three Star
Edit
To beat the level, do one of the following:
Place the pig in the lower right corner of the build grid. This should yield a star box.
Place the pig in any other space. This should give a star for the four-second finish. It is recommended to place the pig in the lower left corner for this, but technically any space will do.
Doing both will give you three stars.
There is no driving phase for this because the only item given is the pig. Simply drop him to the finish.
Ad blocker interference detected!
Wikia is a free-to-use site that makes money from advertising. We have a modified experience for viewers using ad blockers

Wikia is not accessible if you've made further modifications. Remove the custom ad blocker rule(s) and the page will load as expected.