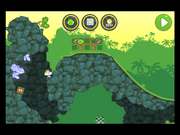 Level 1-3 is the third level in Ground Hog Day and Bad Piggies.
Items Given
Stars
Get Freckles to a certain destination
Get the Star Box
Finish within 7 seconds
Three Stars
Simply build a craft that can use bellows to propel itself both left and right.
To beat the level, you can do one of the below:
Roll the vehicle using bellows down the hill to the star box. A little momentum is required as the star box is perched at the top of a fairly steep grade. Then roll the craft to the left where the finish is. This will give you two stars.
Use the bellows to push the vehicle to the left where there is a hole. The vehicle should break apart and the pig should fall out and roll to the finish line. This solution may backfire as the broken vehicle parts may obstruct the pig. It is worth two stars.
Doing both will give you three stars.