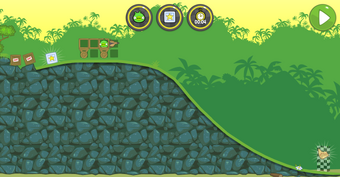 Level 1-2 is the second level of Ground Hog Day and Bad Piggies.
Items Given
Edit
Get Freckles to a certain destination
Get the Star Box
Finish within 4 seconds
Three Stars
Edit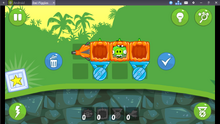 Create a vehicle utilizing the bellows on the left side to reach the finish. This will give you two stars if you (try to) spam the bellows, one to finish, the other for a four-second finish.
Alternatively, you can place the bellows on the right side of the vehicle to finish the level. Propelling the vehicle into the star box will also cause it to crash into the level placed TNT, blowing your pig to the finish. Unfortunately, you will most likely not be able to collect the star for a 4-second finish, but it will still give you two stars.
Simply do each one separately and you will finish with three stars.
Ad blocker interference detected!
Wikia is a free-to-use site that makes money from advertising. We have a modified experience for viewers using ad blockers

Wikia is not accessible if you've made further modifications. Remove the custom ad blocker rule(s) and the page will load as expected.