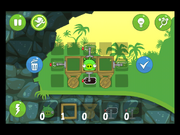 Level 1-10 is the tenth level in Ground Hog Day and Bad Piggies. This level first introduces the Green Soda Bottle.
Items Given
Edit
Get Freckles to a certain destination
Get the Star Box
Finish within 6 seconds
NOTE: You can get Three-stars in more than one run. Once you earn a star, you keep it, so that you don't have to worry about earning about the same star when you try to get the other one.
Walkthrough
Edit
Level Finish
Edit
Building Phase
Edit
Create a Three-long cart (Like the one above) with a Black Soda Bottle on the left and all three Green Soda Bottles on the top (Unlike the one above).
Driving Phase
Edit
Use first One of the soda bottles, then the remaining ones.
Level Three-star
Edit
Building Phase
Edit
To three-star this level, You must use the same exact vehicle on Level Finish.
Driving Phase
Edit
To three-star this level you must do the same exact instructions on Level Finish.
Ad blocker interference detected!
Wikia is a free-to-use site that makes money from advertising. We have a modified experience for viewers using ad blockers

Wikia is not accessible if you've made further modifications. Remove the custom ad blocker rule(s) and the page will load as expected.