EPIC Sir Bucket

EPIC Sir Bucket title card

Episode

10

Director

Erkki Lilja

Writer

Erkki Lilja

Run Time

1:06

Characters

Sir Bucket Pig

Previous

Next
EPIC Sir Bucket
is the tenth episode of 
Piggy Tales,
 and also in honor of the global release of Angry Birds Epic.
Toons.TV Description
Edit
A bucket makes a perfect helmet for a crusading knight – or at least this playful piggy thinks so! But what's that mysterious thing hanging from that balloon?
Sir Bucket Pig was playing around with his wooden sword until he accidentally bump at an anvil tied with a single balloon, and weirdly, making the anvil float. The pig then curiously checked it until he has a mischevous idea. He climbed up the anvil and cut the balloon string. Stupidly, the anvil did not fall and the balloon still in the same position, make the pig confused. But unexpectedly, the balloon instead fell down & crush the pig after.
Characters
Edit
Sir Bucket Pig - Exclusive Appearance in series
Anvil tied with a balloon - Exclusive appearance in series
The anvil may be the Magic Anvil from Angry Birds Epic.
This episode is a tribute of the worldwide release of Angry Birds Epic
This is the third episode who have a different theme song with Angry Birds Epic one, beside Abduction & The Mirror
The Anvil also seen in the Angry Birds Epic game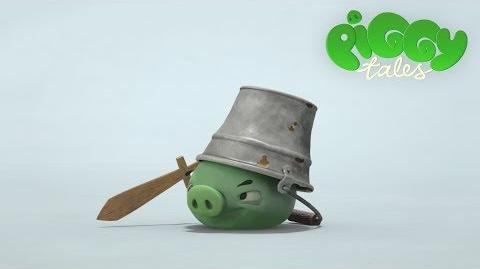 Ad blocker interference detected!
Wikia is a free-to-use site that makes money from advertising. We have a modified experience for viewers using ad blockers

Wikia is not accessible if you've made further modifications. Remove the custom ad blocker rule(s) and the page will load as expected.