The 
Box
 is the main item on Bad Piggies. They appear in almost all levels and they can either be metal or wooden.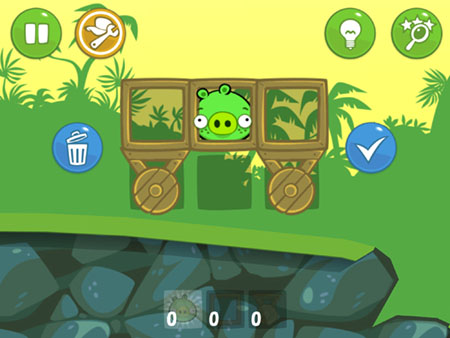 Box

First Level Appearance (Wooden Box)

1-1

First Level Appearance (Metal Box)

1-27

Durability (Wooden)

Low

Durability (Metal)

Medium
Boxes are the main parts of the vehicle. They are used to connect items such as a Soda Bottle and carry other vehicle parts in it such as the Pig and the Motor. You cannot start a ride having Motors that are not in a Box.
Varieties
Edit
There are Two kinds of boxes:
These boxes have the same use, but the main difference between the 2 boxes are :
Metal Boxes are more durable, but also heavier.
Wooden Boxes have less weight, but also less durable.
Metal is 2x the mass of Wood
As shown below.
If a box receives enough force, it can do either of the following:
 Break off of other parts
 Release the object it is holding
 Both of the above at the same time.
Variations
Edit
Wood's one-star variations include blue, green and gingerbread frames.
Wood's two-star variations include pink, the basic wooden frame with bars, and flowers.
Wood's three-star variations include two more detailed wooden frames and a pumpkin.
Metal's one-star variations include a bronze frame, a black frame with bars and a red frame.
Metal's two-star variations include black, bone, purple and the basic metal frame with Christmas lights.
Metal's three-star variations include gold, black with a much smaller window and purple with curtains.
Metal also has an alien variation that lets it slide on terrain as if it were ice.
Ad blocker interference detected!
Wikia is a free-to-use site that makes money from advertising. We have a modified experience for viewers using ad blockers

Wikia is not accessible if you've made further modifications. Remove the custom ad blocker rule(s) and the page will load as expected.