Abduction



Episode Number

4

Director

Erkki Lilja

Writer

Errki Lilja

Run Time

1:07

Characters

Dummy Pig and Alien Pig

Previous

Next
Abduction
is the third episode of 
Piggy Tales
. It is the first to introduce the Dummy
Minion Pigs
and the Alien Pig.
Toons.tv Description
Edit
Take me to your leader! A surprise visit from an intergalactic explorer wipes the smile from one unsuspecting piggy's face...
A Dummy Piggy was wandering around until a tiny UFO suddenly arrives and lands right beside him, with a tiny pig-like alien coming out from it. Then it starts speaking some weird language in a squeaky voice that causes the piggy to hold his laughter. When he couldn't hold it anymore, he laughed very hard and long. Then the alien goes back inside his UFO and drives it inside the piggy's mouth, causing it to stop laughing. Then it flies away along with the piggy.
Characters
Edit
Dummy Minion Pig (First Appearance in series)
Alien Pig (Exclusive Appearance)
This is the first episode to have a nighttime setting
This is the first episode to have a different theme song.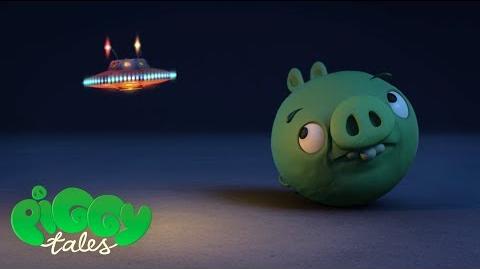 Ad blocker interference detected!
Wikia is a free-to-use site that makes money from advertising. We have a modified experience for viewers using ad blockers

Wikia is not accessible if you've made further modifications. Remove the custom ad blocker rule(s) and the page will load as expected.